How can one person attract so much disaster?
Quirky, clumsy and eager-to-please Karly has more than her fair share of bad luck.
Waaaaay more.
We first meet our 30 something accountant in her loud (the fire alarm is going off) and smoky (she's trying to bake) kitchen.  During the chaos, Karly is dumped because of misunderstandings over a divorce lawyer she didn't hire and an affair she didn't have.  This comes just weeks after performing a very efficient audit on a company…that wasn't actually a client.
Oops.
Single and unemployed, Karly continues tripping through life, both metaphorically and physically.  She thinks her luck may be turning when she meets the perfect man but in true-to-Karly form, manages to scare him off.  And he isn't just "not returning her phone calls" scared but more "sprinting away across the parking lot screaming" scared.
Crap.
Just when she thinks it can't get any worse, it inevitably does. Is Karly destined to lead a life of loneliness and poverty or does fate have something else in mind?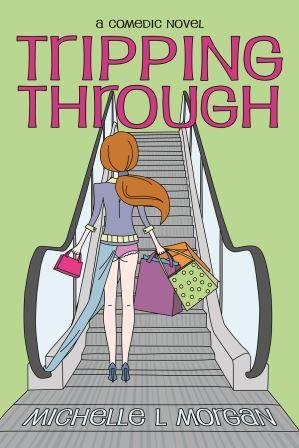 The Story of our Movie
Tripping Through is a comedic novel written by Michelle Morgan.
After Michelle enjoyed writing sketch comedies for the stage and Malcolm enjoying producing those same comedies (and seeing that people actually laughed), the two Ms teamed up to produce Tripping Through.  Michelle adapted her 70,000 word novel into a 20,000 word screenplay and filming started 6 months later on their beautiful island home of Grand Cayman.  18 months, 122 scenes, 57 speaking roles, 50 extras, 19 cow print props, countless sets of false eyelashes and 30 locations later, they had their movie.
They are thrilled that their very first festival entry was accepted and are looking forward to their premier at CayFilm Cayman International Film Festival.  Rumours of attendance of Star Wars cast and crew have inspired them further!
Thank You
Tripping Through would not have been produced without the contribution of many parties to whom we are forever indebted.
Sincere gratitude to our actors, crew, musicians and extras for their countless hours and dedication.  We also wouldn't have been able to make the film without business and individuals donating their locations/residences.
Thank you to the Cayman National Cultural Foundation and to the Ministry of Health and Culture for their  very generous grants.
We cannot express how grateful we are for all of your support.